Hi Everyone!
I hope you all had a great summer! Big news–I have my own website as the Spokesperson for the Special Olympics–UNICEF USA partnership for children with disabilities. It would mean so much to me if you would go to teamlucymeyer.org and let me know what you think. I hope you love it as much as I do!
I graduated in June from Hamilton High School and am taking a gap year to focus on doing all I can to grow this Partnership to help more and more children with disabilities be accepted and included and receive the medical attention that they must have and deserve. I am so excited! If there is a school or other event you'd like me to speak at, please let me know!!!
Even though I am only a month into my gap year, I have so much to report!!!:
New York
I went to New York during the UN General Assembly week to speak at a United Nations Healthcare program with the Queen of Belgium and the First Lady of Japan to stress the importance of access to healthcare for children with disabilities.

The following night, I got to meet with one of my favorite people, Henrietta Fore (the Executive Director of UNICEF) about what I am doing and how we can work together.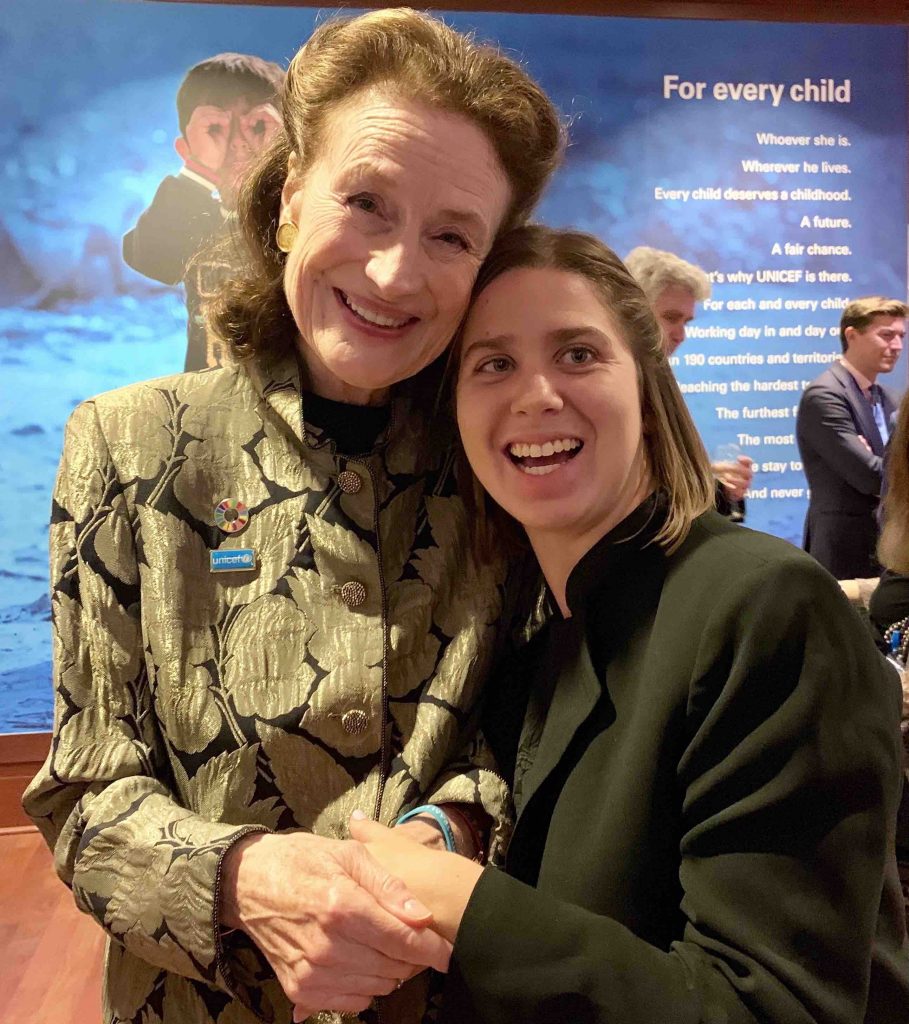 During the day, I had a blast speaking to the dental school and the UNICEF Club at NYU. I also met with the wonderful people that work at the oldest bank in the U.S. (BNY Mellon). Everyone is so supportive about my mission to accept and include people with disabilities and I cannot wait to see what we can do together to make our world more inclusive! Lastly, it was awesome to spend time with UNICEF's disability team and I am so excited to be working with them!!
Portland
In the past few weeks, I have gone to Portland twice to meet with my favorite sports companies at their headquarters.  On my first visit, I met with Adidas and Columbia Sportswear to share with them the mission of the Partnership and my passion to do whatever it takes to make our world safer and more inclusive for children with disabilities.

It was so cool at Columbia Sportswear–they had my picture on their TV screens throughout their building inviting everyone to hear me speak in their auditorium during lunch. I cannot wait to see them again!
On my last visit, I got to spend three days with Nike at their amazing campus! They hosted me for dinner and had me speak to their teams and key personnel. One day Nike hosted Oregon Special Olympics and I got to speak and participate! It was a blast! I will never forget that they gave me my first pair of shoes that I was able to put on all by myself!! Now, I don't need help putting on my shoes–so awesome!
They made me feel so special and were really interested in learning more about what they could do to promote inclusion. One of Nike's slogans: "Every kid deserves a chance to play" really hit home with me.
Last week, I went back to Portland and met with the Portland Public School District to talk about me speaking at schools in Portland next year! So excited!!
Chicago
Earlier this month, I spoke at six schools and had a blast! At one of the schools I spoke to 100 kids– around half of the students in the audience had disabilities–it was hard for me to focus on my speech because I was smiling so much at seeing so many students with disabilities in the same room with students without disabilities!!
On my last day in Chicago, I spoke at UNICEF USA's Chicago Humanitarian Award luncheon, which also happened to be International Day of the Girl. I reminded everyone that it's important to include kids with and without disabilities, boys and girls – all kids. It was such a beautiful luncheon and I met so many inspiring people.
Field Trip with Special Olympics and UNICEF To Montenegro & Kosovo
I am so excited to be going on a field trip to Montenegro and Kosovo this Friday to talk to government officials, spend time with the kids, and do media interviews to support the work the Partnership is doing in those countries to help kids with disabilities.
Field Trip with Special Olympics and UNICEF to Jamaica
A week after I return from Montenegro and Kosovo, I am going to Jamaica to be the keynote speaker at their big Special Olympics Unified Sports Competitions Event and travel the country with Unicef and Special Olympics to help kids with disabilities. I love Jamaica and cannot wait to go back and see all my friends that I made when I was there a few years ago!
Thank You!
I want to thank so many of you for your generous contributions to the Partnership.  If you are interested in contributing, but haven't had a chance, you can make a tax deductible donation through UNICEF USA on my website at teamlucymeyer.org.  If easier, you may contribute by mail to U.S. Fund for UNICEF, 10351 Santa Monica Blvd, Suite 402, Los Angeles, CA 90025 (please make check payable to U.S. Fund for UNICEF and put "Team Lucy Meyer" in the check memo).  All of your donations fund Special Olympics/UNICEF USA programs that support inclusion and health for kids with intellectual disabilities in developing countries.  I believe that this Partnership is the best way to make our world more inclusive and to provide kids with disabilities the opportunities they deserve to learn, play, and have fun just like kids without disabilities.
Thank you for your support and joining Team Lucy Meyer! Together we will continue to make amazing things happen for kids with disabilities all around the world.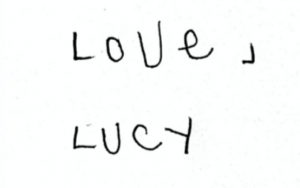 P.S. I will be posting my updates @TeamLucyMeyer on Facebook, Instagram, Twitter, and YouTube. Please follow me so we can go through this journey together! And if you would like to subscribe to my updates, click here.