UNICEF USA + SPECIAL OLYMPICS + ME (LUCY!!)
My name is Lucy Meyer and I am very proud to be the Official National Spokesperson of the Special Olympics – UNICEF USA Partnership since 2015! The Partnership promotes unified sports—children with and without disabilities playing together on the same team.  This encourages acceptance and inclusion of children with disabilities so that they can grow up to be active participants in their community instead of living in isolation.  There is often a strong stigma for children with disabilities and we need to change that.  The Partnership is also providing healthcare to children with disabilities.  Acceptance and inclusion, access to medical care and protection from extreme prejudices are so important!
I am so excited that two organizations that I love, UNICEF and Special Olympics are committed to improving the lives of children with disabilities. I am even more excited that UNICEF USA and Special Olympics are working in partnership to make this happen. UNICEF is the most powerful children's organization in the world.  Special Olympics provides healthcare and sports activities to more people with intellectual disabilities than any other organization. I have been a Special Olympics athlete for the past 10 years. It has changed my life and I want all children with disabilities to have this same opportunity. I believe that these two organizations working together is a great way to help kids with disabilities around the world and actively promote acceptance and inclusion for all.
A video clip of me at work as the Spokesperson for
the Special Olympics - UNICEF USA Partnership in Brazil.
I am a Special Olympics athlete and have won five gold medals in swimming! I play unified basketball and love it and I know the players without disabilities have a blast too! I know Special Olympics programming is effective in decreasing stigmatization and providing an atmosphere of acceptance and inclusion because that is my experience and the experience of my friends with and without disabilities.
Since 2015, I have been traveling on behalf of the Partnership around the U.S. and the world working to raise awareness and funding for really important programs for children living with disabilities.  Our programs are now active in Mexico, Peru, Brazil, Paraguay, Jamaica, Bosnia and Herzegovina, Moldova, Uganda, Zambia, Montenegro, Nicaragua and beyond. We need your help to expand this work! We want to reach many thousands of young people who face isolation, abuse – or worse—due to their disabilities.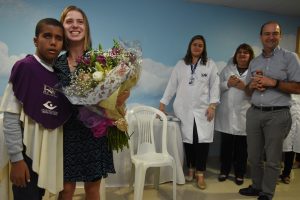 I have cerebral palsy because I didn't receive oxygen for five minutes at birth. At that time, the doctors said that I would most likely never sit up or swallow. The doctors were wrong! My cerebral palsy affects my eyes and speech a little. My right hand doesn't work as well as my left, and my right heel won't touch the ground. School subjects are a little tougher for me, and sometimes my eyes don't work as well as I would like. But! With a little help, I love to play tennis and soccer. I love to skateboard, bike, surf, run, jump with my friends on the trampoline and my favorite sport is swimming! It means so much to me to compete with Special Olympics (I've even won five gold medals!) I had never competed or been a part of a sports team before, and I want other children with disabilities to have the same experience.
In June 2019, I graduated high school!!! I got to speak to my classmates and 5,000 others at the Greek Theatre in Los Angeles.  It was an amazing feeling and so cool to get a standing ovation! Here is the link to my speech speech I gave to my class.
Starting September 1st, 2019, I plan to take a gap year to focus on doing all I can to grow this Partnership to help more and more children with disabilities be accepted and included and receive the medical attention that they must have and deserve. I am so excited! If there is a school or other event you'd like me to speak at, click here!
After my gap year, I will continue my education through UCLA Pathways, continue my role as the Spokesperson for the UNICEF USA – Special Olympics Partnership, compete as a Special Olympics athlete, and participate in the Best Buddies Club and the Special Olympics at UCLA Club.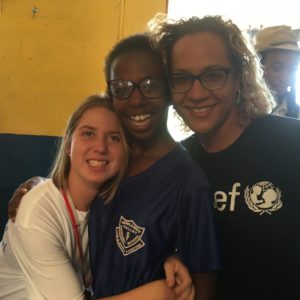 I just love doing all of this and I can't thank you enough for your support! What I want more than anything is for all children with disabilities to be included and for their parents to not be ashamed of them – every child should feel special – it feels so good! Please join me in helping Special Olympics and UNICEF USA make a better world for children with disabilities.
I want to thank so many of you for your generous contributions to the Partnership.  If you are interested in contributing, but haven't had a chance, you can make a tax deductible donation through UNICEF USA's website at teamlucymeyer.org.  If easier, you may contribute by mail to ATTN: Bridget Maxim, UNICEF USA Headquarters, 125 Maiden Lane, New York, New York 10038 (please make check payable to U.S. Fund for UNICEF and put "Team Lucy Meyer" in the check memo).  All of your donations go through UNICEF USA to fund Special Olympics programs that support inclusion and health for children with intellectual disabilities in developing countries.  I believe that this Partnership is the best way to make our world more inclusive and to provide children with disabilities the opportunities they deserve to learn, play, and have fun just like children without disabilities.
Thank you!
Love,
Lucy